Here is another crowdfunding campaign that is being labeled a "scampaign".  Android Police published an article  last night on the odyssey of the Kreyos Smartwatch.  This was preceded by a post on Medium by Jonathan Barronville – another backer.
Kreyos ran an enormously successful crowdfunding campaign on Indiegogo in June of 2013.  Labeled the ONLY smartwatch with voice and gesture controls, the project set out to raise $100,000 but closed 15 times that amount as over 11,000 contributed over $1.5 million.  Most contributors expected to see a Kreyos "Meteor" Smartwatch shipped to their doors in a few months. The first batch was set to arrive in December of that year.  Crowdfund Insider covered the Kreyos Watch as it boasted some cool specs and the timing was perfect following the success of Pebble.  Kreyos today stands as the 8th most funded project on Indiegogo ever.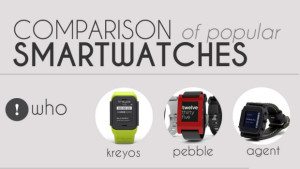 As the weeks passed, Kreyos began pushing their shipping dates back.  Several times in fact. Now this is nothing new in the rewards based crowdfunding space.  In fact I would call it typical.  Kreyos DID make an appearance at CES that was somewhat encouraging for supporters of the project but as time passed, and the delays continued, we started to receive emailed complaints about alleged fraud and unhappy backers.  Last month we even emailed customer service inquiring about ongoing delays.  We received a rather irritating response from Kreyos' Customer Happiness Robot named Nigel (I am not making this up either) but outside of the creepy approach the inquiry was handled correctly.  It was also followed up by an email from an actual person who assured us the Meteors were with the logistics partner in Singapore and delivery would start at the end of the month.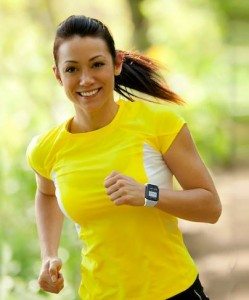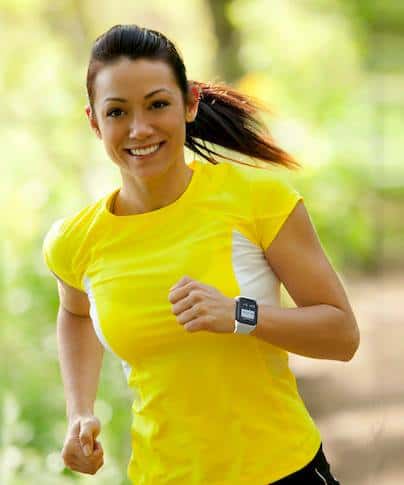 Jump forward a few more weeks as August comes to a close and the concerned emails from backers have continued to show up.  Most recently a backer named Andrew Wright very reasonably expressed his disappointment in Kreyos and noted he was not alone.  In an email Andrew stated;
"As you have covered the Kreyos Meteor smartwatch previously, you may be interested in an update now that the long-awaited watches are finally starting to trickle out to Indiegogo backers and pre-order customers.

Unfortunately, the hardware, firmware, and supporting software fail on multiple fundamental fronts. Those (many) that cancelled orders earlier have been (eventually) refunded, but now Kreyos is sending out completely defective units and – in a retrospective change of policy made just before watches were sent out – denying refunds to those that have stuck with them since originally handing over their cash way back in June 2013.

Customers are very unhappy, but since Kreyos is ignoring or whitewashing complaints – and banning users from its site and Facebook page – over 200 of us have joined a separate group on Facebook dedicated to discussing the problems and trying to see if there is anything that can be done to get Kreyos to treat its customers more seriously."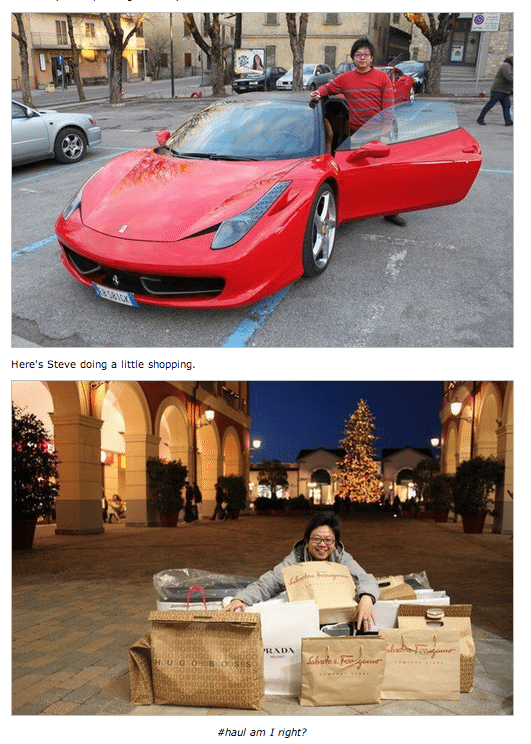 Some of the allegedly missing features that were promised to those who believed in the product include; no waterproofing, only running a single app at a time,  no gesture controls, has problems keeping time … Ok.  So if these statements are factual it sounds a like a used Swatch would have been a better option.  Andrew, and another backer Kenneth Larsen, have catalogued the many issues with the product in a document entitled "Kreyos Backers Lose Faith".  It is embedded below for your reading pleasure.
Now sure projects ship late.  And yes it is a truism for Buyers to Beware.  But to add insult to injury, Kreyos co-founder Steve Tan apparently has been found sporting a Ferrari and hitting designer stores on a shopping spree.  Not so good for corporate public relations.  Of course this is all conjecture but drawing a line from a hugely successful crowdfunding campaign to releasing a crappy product then showing up hopping into a Ferrari does not look good.  If these statements are true, Steve's partners should be taking him on a trip to the woodshed about now.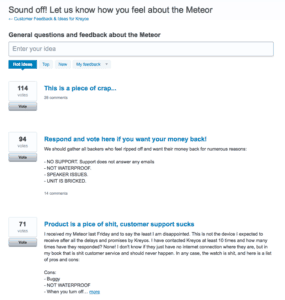 Yes it is easy to call Kreyos another "scampaign" but they are shipping watches… even with the feedback page on the Kreyos website showing comments that are less than complimentary.
And where does Indiegogo stand in all of this?  Well if you recall not too long ago, when the term scampaign was coined, there was the debate about the validity of the HealBe – GoBe.  Some backers believed the claims of the creators.  Others stated vehemently it was pure folly.  In the end – the crowd decided whether or not to support the GoBe.  And who am I to decide what you should back – right? And that is Indiegogo's position.
One area we did differ upon – was the possibility of a backer to claim a refund on a flexible funding campaign prior to the campaign ending. That should be fixed (perhaps it has been).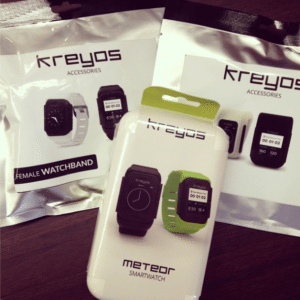 Where does this leave backers of the Kreyos Watch that ended up not being such a smart – watch?  Disappointed and out a few dollars and perhaps a bit more skeptical about the crowdfunding process.  As for Steve Tan and crew.. the internet doesn't forget.
Update:  Mike Villar who has been identified elsewhere as the VP of Marketing & Product Development at Kreyos has posted on the aforementioned Facebook page that he has left Kreyos, as of today, and no longer connected to the company.  He states that he wants to "clear his name" as the recent events were the "proverbial final straw".  Mike says he took the job this past December because of the huge potential but states;
"the wheels started to come off in the next couple of months but I've always thought of the setbacks as inherent to being a small startup attempting to release a relatively complex product. "Pebble was in the exact same situation, we'll make it better and we'll get through this" I said to myself numerous times."
He continues by saying he is quite sorry he could not do any better.  He also opened it up to questions (although he is still reviewing his NDA).
___________________________
[scribd id=237414879 key=key-vZpEGay6U9YOgWVb1T0p mode=scroll]
Have a crowdfunding offering you'd like to share? Submit an offering for consideration using our Submit a Tip form and we may share it on our site!