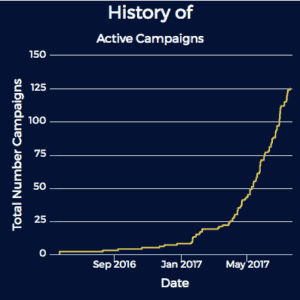 Recently the total amount of Reg CF (or Regulation Crowdfunding) issuers successfully funded topped $40 million. According to the data dashboard on NextGen Crowdfunding, total amount of investor commitments has now topped $46 million. The rule created by the JOBS Act that allows companies to raise up to $1.07 million kicked off in May of 2016 and is just over a year old. So how is Reg CF (Regulation Crowdfunding) fairing? Well that depends on who you ask but if you look at sector growth there are some encouraging signs.
Heading back to NextGen, if you look at the history of active campaigns as of today there NextGen tallies 125. The graph they present shows a solid recent incline.
, a full stack crowdfunding platform that lists issuers under Reg CF, Reg D and Reg A+, in a recent blog post, co-founder Howard Marks shares their Reg CF Index: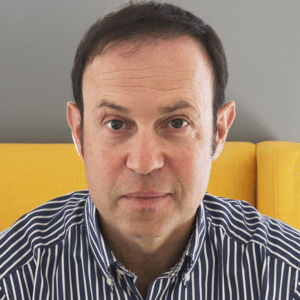 "At the end of June 2017, companies have raised over $47M in funding through Regulation Crowdfunding. The index has increased by 21%, beating the annualized compounded growth rate of 16%"
There are now 29 FINRA approved Reg CF portals but the majority of the investment offers have occurred on just a few platforms. As it stands today, these are the top Reg CF portals for total raised during 2017 according to StartEngine as of June 30th:
Wefunder @ $8.7 million for 27 companies
StartEngine @ $6.9 million for 21 companies
First Democracy VC or Indiegogo/MicroVentures @$3.58 million for 12 companies
SeedInvest @ $2.85 million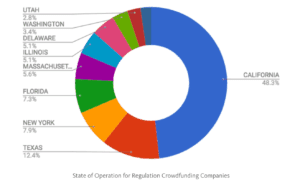 If  you jump back and look at most active platforms since the exemption became actionable the list changes a bit with NextSeed, a debt only platform, in the top four.
Out of the top ten issuers for 2017, 6 have hit$1 million (or a bit more as the SEC increased the exemption to $1.07M this year). Common stock is the most popular security followed by SAFEs and then Debt. As one may expect, most issuers are based in California followed by Texas and New York.
Is Regulation Crowdfunding picking up momentum? Yes, it appears to be doing just that but remember the industry is still quite young. So is Reg CF perfect? No, not at all. The crowdfunding exemption has a lot or regulatory requirements that act as a speed bump that probably pushed things too far. Additionally, the exemption has been arbitrarily capped at $1.07 million – far too low for many companies seeking a Seed or Series A round. In the UK, an issuer may raise up to €5 million (EU rules regarding a prospectus) and industry participants expect this amount to be doubled to €10 million in the near future.
But what is encouraging is that platforms are working hard to figure things out. They are experimenting and learning as to which issuers work best and how to close successful funding rounds.
Several months back one platform predicted Reg CF will top $100 million in total raised by the end of 2017. As it stands now, it looks like this prediction will come true.