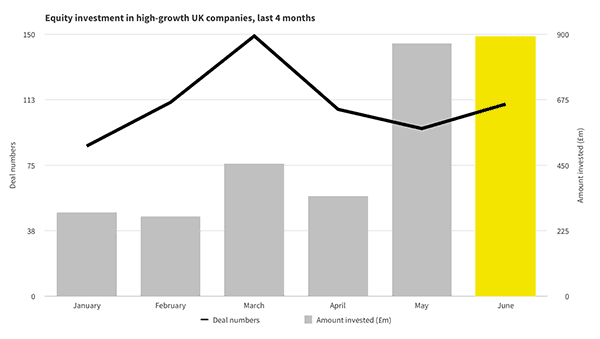 Beauhurst is out with their monthly report for June and, according to their numbers, things are looking up for equity investments into high growth UK firms. This follows news by OFF3R that said equity crowdfunding in the UK had experienced a record breaking first half of the year.
Beauhurst states that May saw an "unusually large amount invested."  This is due in part to the Improbable deal which was quite large at £389 million. But June is coming in even better fueled by FarFetch that raised £311 million.  June has has topped May by £24 million. Total amount of deals came in at £893 million.
Breaking things down by stage, the deals ended up as follows:
45% of companies that raised during this period were seed stage
38% at venture-stage
17% at growth stage
Regarding the number of deals, an important metric, they increased from 96 to 110, according to Beauhurst. The average size deal dipped a bit from £9.2 million from £9.87 million but still quite strong.
The most active investment platform was Crowdcube, which participated in 15 investments throughout June, followed by Seedrs and VentureFounders who both completed 4 deals.
The Top June Deals are as follows:
1. FarFetch – a global online marketplace for independent fashion boutiques, as well as major designer brands. The site has clothing for both men and women.
Deal date: 22nd June 2017
Deal amount: $397 (£313m)
Investors: JD.com
2. Gryphon Group –  This company operates an insurance/Insurtech service, which seeks to improve customer protection by using technology.
Deal date: 14th June 2017
Deal amount: £180 million
Investors: Leadenhall Capital Partners, Punter Southall
3. Bicycle Therapeutics –  has developed a technique for the discovery of drugs with antibody-like specificity and selectivity.
Deal date: 1st June 2017
Deal amount: £40m
Investors: Atlas Venture, Cambridge Innovation Capital, Longwood fund, Novartis Venture Fund, SR One, SV Life Sciences, Vertex Ventures
4. NightstaRx – develops gene therapies for the treatment of degenerative conditions that affect vision.
Deal date: 29th June 2017
Deal amount: $45m (£34.6m)
Investors: New Enterprise Associates (NEA), Redmile Group, Syncona Partners, Wellington Management
5. Zopa – A leading a peer-to-peer lending site.
Deal date: 1st June 2017
Deal amount: £32m
Investors: Northzone Ventures, Wadhawan Global Capital Pvt Ltd.