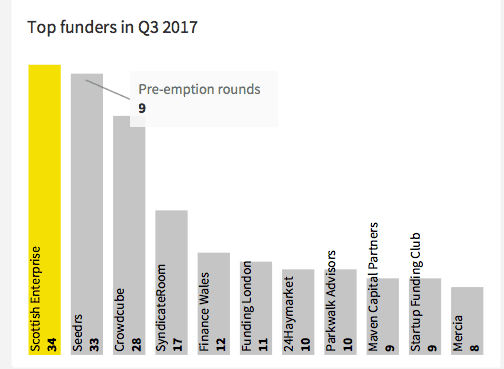 Beauhurst has just released their Q3 Deal report and according to their numbers, equity investing in UK non-listed firms is on the rise. This is in contrast to a slowdown seen in the number of deals during 2016.
According to the report, there were 397 deals in Q3 an increase of 11.83% versus Q2 2017. The aggregate amount invested dipped slightly by 2.04% or £2.5 billion. The average deal size dropped a bit too by 13.17% to £6.66 million.
And what about crowdfunding?
This sector of finance saw a jump in the number of deals rising to 88 during the quarter, an increase of 21.62% versus Q2 2017.
The largest deals during the quarter (including a few companies that listed on crowdfunding platforms) include:
Deliveroo – £285 million
The Hut Group – £125 million
Neyber – £115 million
Options – £78 million
TrueSpeed – £75
Autolus – £60 million
Darktrace – £58 million
Revolut – £51 million
Replimune – £42 million
The top funders during the quarter include:
Scottish Enterprise – 34
Seedrs – 33
Crowdcube – 28
SyndicateRoom-17
Thus, crowdfunding is playing a significant, and arguably important, role in capital formation for early stage firms.
And what is the hottest sector in the UK? Fintech. With AI, AdTech, Big Data and PropTech following.
You may view the entire report from Beauhurst here.