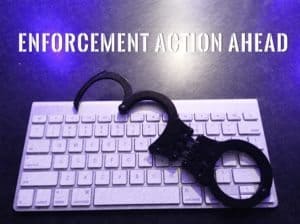 The Securities and Exchange Commission (SEC) has obtained final judgments against attorney T.J. Jesky and his law firm's business affairs manager, Mark F. DeStefano pertaining to the illegal sales of Ubi Blockchain stock. Both Jesky and DeStefano profited from sales in the stock. UBIA is a Delaware corporation based in Hong Kong. It is quoted on OTC under the symbol UBIA. 
As previously reported, the SEC says the pair made approximately $1.4 million by selling shares in UBI Blockchain Internet during a 10-day period from Dec. 26, 2017 to Jan. 5, 2018. The sales halted when the SEC stepped in and temporarily suspended trading in UBI Blockchain.
Jesky and DeStefano, both residents of Nevada, received 72,000 restricted shares of UBI Blockchain stock in October 2017 and were permitted to sell the shares at a fixed price of $3.70 per share under the registration statement, according to the SEC. Instead, the SEC states that Jesky and DeStefano unlawfully sold the shares at much higher market prices – ranging from $21.12 to $48.40 – when UBI Blockchain's stock experienced an unusual price spike..
Jesky and DeStefano have agreed to return the $1.4 million of allegedly ill-gotten gains, pay $188,682 in civil penalties and be subject to permanent injunctions.