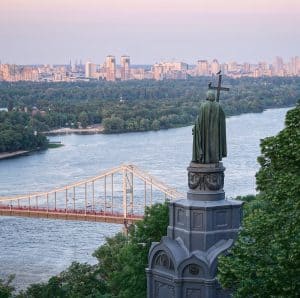 Ukraine's reserve bank claims that central bank digital currencies (CBDCs) may work well when the private sector is involved. The country's central banking institution had launched a pilot program back in 2018 that had focused on developing a digital version of Ukraine's national currency (the hryvnia).
The digital hryvnia was implemented by using a private version of the Stellar blockchain or distributed ledger technology (DLT) protocol. As expected, the implementation was a centralized solution because the Ukrainian reserve bank was the only entity responsible for issuing the virtual hryvnia.
Roman Hartinger, head of innovative initiatives at the National Bank of Ukraine, noted that the CBDC ecosystem should include private market participants. They should help with facilitating interactions between the reserve bank (the issuer of the digital currency) and the individual consumers or local businesses, Hartinger recommended. This type of CBDC implementation should make the currency an effective tool to support competition and innovation, Hartinger stated.
He added:
"It is true in any model for CBDC. The only exception might be small countries or countries which do not have a well-developed private market where a central bank can issue CBDC, and also be the one to interact with consumers. But if you want CBDC to be perceived as competitive and innovative, you have to involve the private markets where possible."
Bitcoin (BTC) and the controversial Facebook-led Libra stablecoin or payments project might play a key role in a world where reserve banks are beginning to issue their own digital currencies or CBDCs, according to Raghuram Rajan, former governor at the Reserve Bank of India (RBI).
Rajan recently noted that Bitcoin is still a "speculative asset" while Libra may have a legitimate use case, as it may be used for conducting real-world transactions (to pay for everyday goods and services).
Rajan stated:
"I would like to think that these private currencies are also in competition with the central bank digital currency."
Rajan believes that different private currencies will aim to provide solutions for various use cases. He added that we might have to "integrate the data" between these competing virtual currencies because we may not want "the whole thing to be Balkanized."

As reported recently, China's virtual yuan or digital currency electronic payment (DCEP) system will be introduced in Hong Kong's Greater Bay Area.

Not all countries or insitutions think CBDCs are a good idea or worth implementing. The Reserve Bank of Australia has said that the use of cash declined during COVID, but it doesn't yet see a strong case for CBDC, even while working on a proof of concept for the e-AUD.

Sponsored Links by DQ Promote