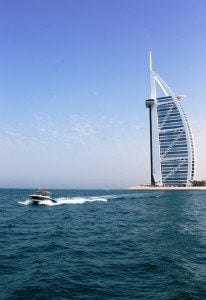 Dubai's economy is projected to grow by 4% this year, driven by the government's (fairly) effective response to the COVID-19 pandemic. The Dubai government has taken several measures to extend support to local businesses and individuals. It also launched four stimulus packages valued at 6.8 billion AED (appr. $1.85 billion) between March and October 2020.
Dubai, which has evolved into a major commercial and financial hub of the MENA region, remains focused on expanding its economy in 2021. But expansion efforts this year will come after its economy contracted by 6.2% in 2020. The UAE economy also contracted by 10.8% during H1 2020, mainly due to the socio-economic uncertainty created by the Coronavirus crisis.
Sami Al Qamzi, Director General of Dubai Economy, has stated:
"Our leadership's directives were focused on ensuring that the short-term impact of the Covid-19 pandemic does not translate into a long-term economic hardship that would inflict lasting damage on people and businesses by way of job losses and bankruptcies. This has paved the way for Dubai to be one of the very first cities to gradually reopen its markets and businesses."
Dubai's recovery and growth projections follow the reserve bank of the UAE's estimate of a 2.5% expansion of the nation's economy in 2021. The rebound of the Middle East's second largest economy (after Saudi Arabia) this year will be led by a 3.6% growth in the non-oil sector, according to the nation's authorities.
While the region's economy may be on a recovery path, the Covid-19 pandemic has had a negative impact on the UAE's businesses and residents. But an economic slowdown in the region is in line with other major economies across the globe, according to local sources. For example, the International Monetary Fund (IMF) has projected that the UK economy will contract by 9.8% in 2020 and the Eurozone economic growth will shrink by 8.3% and Canada's economy will contract by 7.1%. Meanwhile, the UAE will experience a 6.6% decline and Saudi Arabia will see a 5.4% decline.
While most industries struggled, financial services and insurance businesses in the UAE grew by 1.4% last year. This growth helped support the nation's economy throughout 2020.
Al Qamzi added:
"The banking sector in the country is in a strong position to face any future challenges. These efforts include investment in healthcare and food security that will not only reduce the likelihood of future shocks, but also contribute to enhancing the emirate's resilience against such shocks."
As covered recently, over 80 new Fintech initiatives joined the Dubai International Financial Centre (DIFC) in H1 2020, a 75% year-over-year increase.

UAE's real estate-focused Fintech Stake will be allowing investors to begin investing with only 2,000 Dirhams.

As reported in November 2020, DIFC's Fintech Hive and Israel's Fintech Aviv will be working cooperatively to expand their financial tech ecosystems. Also in November, Bank Hapoalim and Abu Dhabi Global Market revealed that they would work on the digital transformation of financial services in the UAE and Israel.

Sponsored Links by DQ Promote