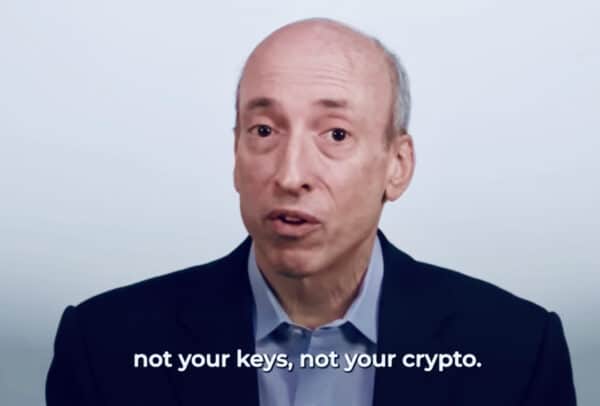 SEC Chair Gary Gensler received some face time this morning on CNBC in the wake of the Commission's enforcement action taken against crypto exchange Kraken. The platform was compelled to pay a $30 million penalty for its staking service offered to US investors. Staking is a common service offered by crypto exchanges that allow holders of Proof of Stake crypto to earn a return while parking these digital assets as they act as validators for the network, providing a necessary service. The SEC claimed that staking is a security. Kraken paid the penalty without admitting or denying any guilt.
Gensler claimed that Kraken was offering a 4% to 20% return for staking without disclosing to the public the risk in the service. "They were not complying with that basic law," said Gensler.
Asked about Coinbase (NASDAQ:COIN), a publicly traded crypto exchange, and its "yield products," Gensler said the labels don't matter, "This really should put everyone on notice in this marketplace," Gensler stated. He added that whether you call it Lend, Earn, Yield … that does not matter.  Gensler said other platforms need to come into compliance and seek registration.
Coinbase shares have sunk by about 15% this week as investors worry about what could happen if the SEC has its sights set on the digital asset marketplace.
Midnight Crypto Massacre
Fox Business reporter Eleanor Terrett, Tweeted yesterday that a broader crypto crackdown is in the works. Terrett has emerged as a dependable source for SEC activity.  She stated:
"[Gary Gensler] is embarking on a "midnight massacre" in an attempt to bring all of crypto under his control. In the coming weeks, the [SEC], [New York Department of Financial Services], and the [Office of the Comptroller of the Currency] will be bringing a myriad of enforcement actions against exchanges, banks, and entities that mint tokens in an attempt to label the majority of them as securities. I'm told Gensler's strategy is to bring as many enforcement actions as possible while the 118th Congress is still getting its bearings."
The coordinated regulatory attack on crypto firms could have a devastating attack on the US digital asset sector.
While Gensler has consistently said most digital assets are securities, with the exception of Bitcoin, it appears that the SEC and other regulators may now be ready to execute on these statements and announce multiple enforcement actions. Coinbase and other US crypto trading platforms will be at the top of the list.
Meanwhile, everyone knows that Congress is working on bespoke legislation addressing digital assets that could mitigate some of these regulatory actions so it is a bit of a race with regulators taking a clear lead.
While the US is gearing up for a more aggressive crackdown on digital assets, the UK continues to buttress its reputation as a global crypto hub.
---
Yesterday, the SEC posted a video featuring Chair Gary Gensler discussing digital asset staking. See below.
---
Sponsored