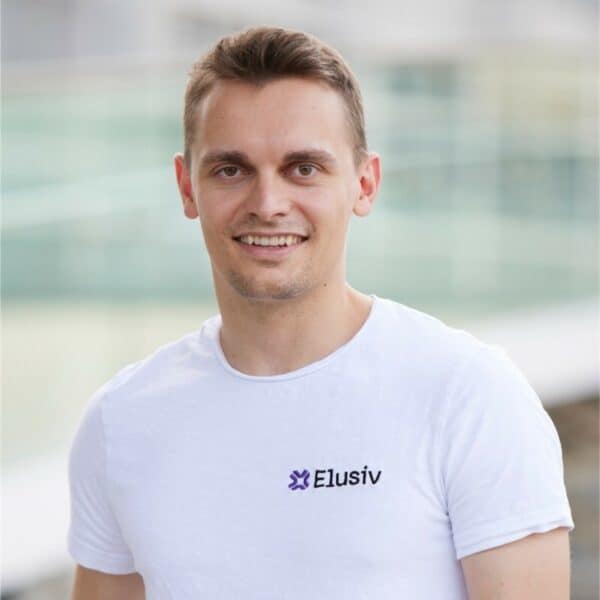 MakerDAO co-founder Rune Christensen has submitted a proposal to build the project's upcoming native chain using Solana's codebase, which led to Vitalik Buterin selling $580,000 worth of MakerDAO's MKR token in rebellion. The move may be an indication that ecosystem participants want to explore different platforms instead of building most apps on Ethereum (ETH), which decisively remains the most widely adopted smart contract platform.
Solana developers claim that they offer a collaborative environment that is scalable and energy efficient, making it worth exploring for mass adoption. Many projects, such as Elusiv, are choosing the Solana ecosystem, which is scalability-driven like many other projects in the crypto space. However, it's worth noting that Solana has suffered from a wide range of technical issues over the years, but so have many other blockchain/DLT-powered networks (including Ethereum).
We recently connected with Julian Deschler, Co-Founder of Elusiv, the zero-knowledge privacy protocol that has launched private token swaps on Solana, enabling users to exchange assets without disclosing private information about themselves or the transaction.
Julian discussed how Elusiv aims to become the primary privacy protocol on Solana, bringing practical privacy features to users and initiating a future where everyone has privacy.
Our conversation with Julian is shared below.
Crowdfund Insider: Solana has had several new developments; can you share insight on how these will impact the wider industry?
Julian Deschler: It has been an eventful few weeks for Solana, with several significant announcements. Recent highlights include Visa's stablecoin pilot expansion to Solana, Solana Pay's Shopify integration, and MakerDAO's consideration of the Solana codebase for Newchain. These significant announcements are yet more evidence of the robustness of Solana's ecosystem. In the broader scheme of things, the recent events also show that heavyweight Web2 players are continuing to enter the space and trust Solana as a key player in building the future of Web3. It's not just a massive vote of confidence for Solana, but the entire Web3 space as a whole.
Crowdfund Insider: Is competition between different blockchain communities holding the space back?
Julian Deschler: A healthy dose of competition between rivals is standard in every industry. Most recently, we saw Ethereum co-founder Vitalik Buterin sell around $580,000 worth of MakerDAO's MKR tokens after the project's co-founder Rune Christensen advocated launching the project's new chain on a Solana-based platform, sparking debates within the crypto community.
Tribalism, a well-known phenomenon in the crypto space, has both negative and positive consequences. On one side, without it, the robust ecosystems we have today would not be here. Mostly, these discussions revolve around whose tech is superior, the fastest or the most decentralized, but at times, this discussion can take a turn for the worse, leading to bitter online disputes between different communities and leaders. Blockchain interoperability must become a top priority if the industry is to scale and attract mainstream users. We cannot achieve this in silos; it is an obstacle we all must face together and can only be resolved through open discussions. Pitting blockchains against each other doesn't help to initiate these conversations.
Crowdfund Insider: What is Elusiv?
Julian Deschler: Elusiv is a privacy protocol building Web3's universal encryption layer, enabling privacy and compliance to exist mutually. Elusiv provides tools that empower users to control their data, allowing them to choose what gets shared and what doesn't and enabling privacy by choice. Privacy in Web3 has been a consistent roadblock to widespread adoption.
Through the use of zero-knowledge encryption, Elusiv is empowering Web3 users and developers with the safety net of knowing that their data is secure. Elusiv will help accelerate the adoption of privacy-preserving technology and make it more commonplace in wallets, payment solutions, and DeFi protocols, creating a ripe environment for growth and innovation.
Crowdfund Insider: Why did Elusiv choose to build in the Solana ecosystem?
Julian Deschler: Elusiv chose Solana as its foundation because it is fast, scalable, and cost-efficient—making it the most primed chain for mass adoption. Solana differentiates itself from other blockchains by utilizing a proof-of-history consensus mechanism, which allows it to process many more transactions per second and charge lower fees than rival blockchains. The network can handle about 3,400 transactions per second, a huge advantage when we consider scaling blockchain infrastructure in the future.
Crowdfund Insider: What privacy features is Elusiv bringing to Solana?
Julian Deschler: Elusiv is set to potentially become a widely-used privacy protocol on Solana, bringing practical privacy features to users and initiating our vision of a future where everyone has privacy. We recently launched our Private Token Swap functionality, which allows users to exchange assets without disclosing any identifying information about themselves. This is a first for Solana, infusing the beginnings of private DeFi in the ecosystem, bringing better security guarantees for users and traders.
Crowdfund Insider: How is Elusiv's offering different from protocols such as Tornado Cash?
Julian Deschler: Elusiv's structure significantly differs from protocols like Tornado Cash regarding privacy protection, programmability, and compliance. Elusivleverages a variety of cryptographic techniques, including zero-knowledge proofs (ZKPs) to provide users with privacy on the blockchain.
Furthermore, Elusiv takes a progressive approach to compliance by providing a permissionless, decentralized, privacy-preserving system that enables self-regulation and regulatory alignment. We need to face the fact that compliance is essential if blockchain technology is to scale and build systems that incorporate compliance and privacy to keep users and regulators happy.
By enabling users to transact and coordinate privately, Elusiv is shifting current economic frameworks away from surveillance capitalism and giving users more power and choice while enabling regulatory measures to be executed – a silver lining in a complex problem.
Crowdfund Insider: Why do Web3 users need better privacy?
Julian Deschler: Web3 has opened up a new era of digital opportunities that promise to improve the internet. Our current internet (Web2) presents several privacy and data sovereignty issues, with big tech corporations harvesting users' data without consent. Web3's vision has stemmed directly from these failures, but the blockchain paradox complicates matters.
Blockchain integration promises to transform our digital milieu, promote self-sovereignty, and enhance users' control and ownership. However, blockchain's \are public by default, giving users no privacy when carrying out transactions on the blockchain. Without privacy mechanisms, major blockchain use cases will not scale – because everyday users and corporations expect privacy when conducting business.
Crowdfund Insider: Where can developers and users who are interested learn more?
Julian Deschler: We have several exciting upcoming announcements. If you want to learn more about Elusiv and what we have in store, you can follow us on social media and Discord or visit elusiv.io.