Crowdcube Equity Crowdfunding Platform has Raised Over £12 Million to date for 64 Busineses.
Crowdcube founders Luke Lang and Darren Westlake ventured off to Downing Street today to meet with British authorities to discuss the equity crowdfunding revolution and realities of today.  Representatives from HM Treasury, the Financial Conduct Authority and the Department for Business Innovation and Skills were reported to be participating in this important meeting.  Crowdcube is regulated and authorised by the FCA.
Recently there has been some speculation in the press the FCA was prepping to crackdown on crowdfunding platforms.  The rumblings claimed the FCA was fearful of unsophisticated investors investing in companies setting themselves up to get fleeced.  Some of these rumors were dispelled by the association which represents the UK   crowdfunding industry – the UKCFA.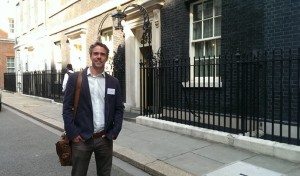 There were also whispers to the effect that financial companies which are feeling the heat of encroaching competition from these new, innovative investment companies , were silently lobbying to slow down the impact to their presently successful businesses.
The UK based Social Foundation stated that MP Barry Sheerman had been frustrated by the chatter and had communicated as such to Chancellor of the Exchequer – George Osborne.
The United Kingdom has been a leader in Investment Crowdfunding with sites like Seedrs and Crowdcube leading the way. Crowdcube launched their platform without "formal" regulation.  Debt crowdfunding platforms still do not have formal regulation in place but all expectations are some structures are forthcoming later this year.