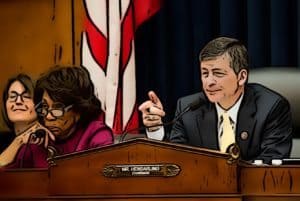 Wefunder, one of the active participants in the Reg CF crowdfunding space, has published a comment letter directed towards Representatives Jeb Hensarling and Maxine Waters in support of the Fix Crowdfunding Act (HR 4855).  The two are powerful legislators in the House of Representatives. Hensarling is the Chair of the House Financial Services Committee and Waters is the ranking Democrat on the Committee.
Wefunder is adding its voice to a long list of proponents that view the Fix Crowdfunding Act as vital to protecting retail investors. The Act will also remove certain hobbling portions of existing Reg CF rules: Good for issuers and good for retail investors.
WeFunder has already raised $1.3 million for 21 companies since Reg CF became available on May 16th.
Nicholas Tommarello, WeFunder CEO, states;
"[without these fixes Reg CF will be] heavily disadvantaged as compared to accredited investors and equity crowdfunding will ultimately be seen as a failure."
Their early experience "bears this out."
What is on the Fix Crowdfunding Act list that WeFunder wants? Some basic updates including:
Single Purpose Vehicles or SPVs. There are many reasons why this is important but having SPVs will allow small investors the chance to invest alongside large, professional investors.
Testing the Waters. It is surprising this was not included in the initial rules. Allowing issuers the ability to gauge investor interest before spending lots of money simply makes sense. The added transparency is extremely important for investor protection as well.
The Exchange Act. As it stands now, if a company has more than 500 shareholders, or $25 million in assets, they may be treated more like a public company – required to file expensive reports they cannot afford. Think about it. Crowdfunding means the possibility there will be many investors.
Raising the Exemption to $5 million.  This would bring retail crowdfunding into line with much of the rest of the world. In the UK, the most vibrant investment crowdfunding ecosystem, an issuer may raise up to £3.99 million or $5.7 million.  There is a European wide movement to raise this to €10 million – supported by the EU.  The European Parliament has proposed bumping this number up to €20 million.
As Wefunder points out, some want to kick the can down the road a bit longer. But why do that when the Fix Crowdfunding Act is so obviously needed?
Read the Wefunder letter below.
[scribd id=315364747 key=key-jqHuxrHAWAMsEIl5e48C mode=scroll]