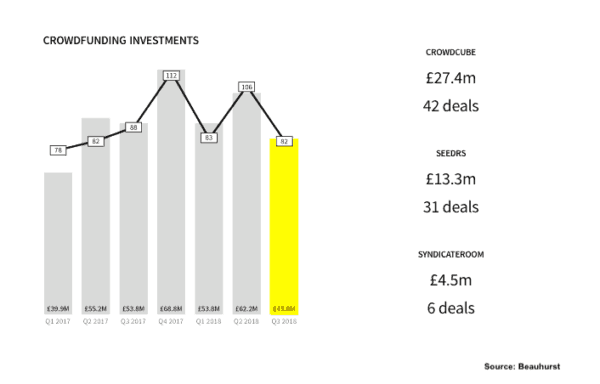 Beauhurst is out with UK deal numbers for equity investment in Q3 and both the amount, and total number of deals, dropped in comparison to Q2. In fact, the total number of deals is the lowest since Q3 of 2014.
The report indicates the following:
363 deals during Q3 – a decline of 18.2% versus prior quarter
£1.84 billion invested during Q3 – a decline of 9.2% versus prior quarter
The average deal size jumped by 15% from Q2 rising to £6.1 million
The numbers may indicate that more money is going into fewer deals. The number of seed stage deals dropped below venture stage  for the first time since 2012 as investors tailored their risk exposure.
Fintech experienced the most activity with £309 million being invested into this sector. Fintech was followed by AI and Proptech.
Crowdfunding remained a vital portion of the funding sector for early stage firms with £49.6 million going into 82 deals during the 3rd quarter. Crowdcube continued to hold the lead in first place.
According to Beauhurst:
Crowdcube – 42 deals – £27.4 million
Seedrs – 31 deals (includes 6 pre-emptions and 1 convertible campaign) – £13.3 million
SyndicateRoom – 6 – £4.5 million
Crowdcube has put a blog post together which provides some historical perspective.
Total raised for the top three platforms during 2018 are tallied as follows:
Crowdcube – 120
Seedrs – 88
SyndicateRoom – 31
The total market share from January 1st 2018 to September 30th 2018 is:
Crowdcube 52.6%
Seedrs –  30.9%
SyndicateRoom 16.6%
Crowdcube is quick to add that Beauhurst numbers do not include offerings which our outside the UK as they operate in Europe and have a partnership with a US platform.
Crowdcube co-founder Luke Lang, provided a comment on the report:
"It's great to see the Fintech sector bucking the trend, with the highest number of deals on record. Also, the amount raised on Crowdcube for businesses in the quarter is up 90% year-on-year, from £14.4m to £27.4m – more than twice our nearest competitor."
It must be noted that total deal flow is important but not the only metric. Deal quality is important too.

In the long run, platforms will be judged based not only on capital raised but returns to investors. As most people understand, this will take some time as many early stage firms will fail and the few that are successful may take years to prove themselves.

Also, the impact of Brexit is hard to quantify but it will clearly influence all equity deals. If a reasonable agreement is not hammered out with Brussels, early stage investment activity in the UK may stumble. Crowdfunding investments have dipped from both Q2 and same quarter year prior comps – not a good sign. Time will tell.

Sponsored Links by DQ Promote