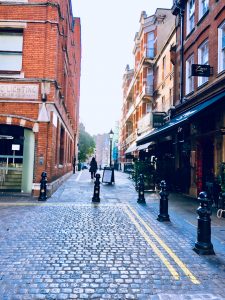 Stuart Law, CEO at Assetz Capital, a peer to peer lender providing secured loans to businesses, argues that residential property in the UK will be the primary beneficiary from COVID-19's negative impact on the nation's retail industry.
As reported by Peer2Peer Finance, there's an improvement in the UK's retail sales market, according to July 2020 data from the Office for National Statistics. Retail sales volumes increased by 3.6% when compared to volumes in June 2020 and were about 3% above pre-pandemic levels reported in February of this year.
Law notes that the recovery of the UK's retail sector might be a positive sign, however, he claims that might only be temporary because getting access to affordable housing will become the main priority of the nation's residents.
Law believes that many UK residents will use the funds they might have saved during the pandemic to move into a new home.
Law says that without commuting and spending money at restaurants near their workplace, most consumers may have saved up a lot. It's possible that some money went to retail outlets like supermarkets, but he claims that the top priority on everyone's mind will be securing property or housing.
He says that people will most likely use that extra funds to shift into a new home, which could lead to a "boom" in housing and also a substantial increase in prices.
He adds:
"The money is leaving the pockets of owners of city centres, sandwich shops and pubs, which have experienced bad situations and will lead to hundreds shutting down, to go into housing."
In July 2020, there was increased activity related to transactions involving commercial and residential properties according to data from the HRMC..
During the month of July, there were reportedly 70,710 real estate transactions, which is  27.4% lower year-on-year but a 14.5% increase from June 2020. There were 8,380 transactions, during July, that involved commercial properties which is a 18.3% drop from July of last year and 27.6% higher when compared to figures from June 2020.
Law argues that the UK's residential market is now "booming."
He points out that it's being "driven" by the stamp duty cut and increased demand for suburban and countryside properties. He explained that residents are looking for housing that's well-suited for the pandemic.
He predicts that commercial property transactions will be recovering, however, "not necessarily all of it."
He adds:
"Pubs, hotels and offices are three areas that are definitely under pressure. But warehousing has seen ballistic activity because of internet shopping."
Earlier this month, Assetz Capital had been seeking a £10 million Banking Competition Remedies (BCR) Pool E grant. It was also welcoming turned away P2P investors following the RateSetter exit from the sector.

The P2P lender recently launched its new Access Account Marketplace, which allows investors to apply a discount when buying and selling Access Account loan holdings.

Assetz Capital has also announced a partnership with Aros Kapital to assist with lending under the Coronavirus Business Interruption Loan Scheme (CBILS). Assetz Capital was approved for accreditation as a CBILS lender in May.

Sponsored Links by DQ Promote