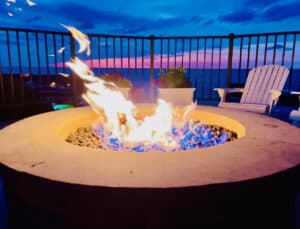 The latest report from EthHub, the "essential" resource for Ethereum information, curated by Anthony Sassano (@sassal0x) and Eric Conner (@econoar), notes that Ethereum Improvement Proposal or EIP-1559 is now live on the Ethereum (ETH) network.
Since the major upgrade went live this past week, the network has burned more than 18,000 ETH. It's now possible to track how many ETH have been burned by checking any of the websites listed below.
Once EIP-1559 goes live, you'll be able to watch ETH being burned at any of these websites 🔥

* https://t.co/jjFlySj5wZ
* https://t.co/waISH22bWM
* https://t.co/f0U3giQiLo
* https://t.co/8Oww1P9rtD

We're gonna make it fam!

— Anthony Wassano 🦇🔊 (@sassal0x) August 5, 2021
The EthHub weekly update also noted that Brian Brooks, the former head of the Office of the Comptroller of the Currency (OCC) who became CEO of Binance.US this spring, has now resigned.
Brooks confirmed his resignation via a tweet on Friday (August 6, 2021). He also mentioned that he left the firm because of "differences over strategic direction" but did not provide more details on exactly why he decided to leave. Brooks began his role at the US-headquartered company on May 1, 2021.
Soon after Brooks' announcement, Binance.US released a statement from Binance CEO Changpeng Zhao or "CZ" and chairman of the US-based exchange. Zhao stated that "this transition will not impact Binance.US customers in any way."
While sharing other recent crypto-related news, the EthHub team noted that the US Securities and Exchange Commission (SEC) Chairperson Gary Gensler stated on Tuesday (during an event) that "right now, we just don't have enough investor protection in crypto."
Gensler remarked:
"Frankly, at this time, it's more like the Wild West."
The statements, which were prepared ahead of time and shared publicly by the SEC, represent perhaps Gensler's "most expansive comments to date on the topic of regulation and crypto, though he stressed that he was speaking for himself rather than the agency itself," the EthHub team noted.
The weekly update from EthHub also mentioned:
"And though some of his comments have been aired elsewhere — for example, Gensler has said publicly that he wants more regulation for exchanges and seeks to cooperate with Congress on the matter — Tuesday's speech laid out in clear terms the agency's regulatory priorities for the industry under his leadership. Indeed, while Gensler described himself as 'technology-neutral,' he went on to claim that he is 'anything but public policy-neutral.'"
"As new technologies come along, we need to be sure we're achieving our core public policy goals," Gensler added.

As usual, the team at EthHub has shared Ethereum and crypto ecosystem project updates:

ESP Grantee Roundup July 2021

An update on everything that the EF Ecosystem Support Program has been up to during the month of July.

Prysm V2 Changes

In the coming month or months, Prysmatic Labs will be "releasing a major version bump of the Prysm Eth2 client, v2.0.0."

Arbitrum Update

More than 400 projects now have access to Arbitrum One with dozens "completing their deployments." Due to this, Arbitrum says they are "on track for full public access in August 2021."

StarkWare Bridge Announced

StarkWare is "building a trustless sidechain-to-StarkEx bridge that will be secured by Ethereum."

Facebook Open-Sources Winterfell

Winterfell is Facebook's implementation of a STARK prover/verifier, "to bring the benefits of zero-knowledge proofs to developers."

dYdX Token Introduced

The dYdX protocol token is "now live with the initial distribution occurring until September 8th, 2021 when DYDX tokens will become transferrable."

B.Protocol and Liquity Team Up

With this integration, B.Protocol now "automatically converts ETH back to LUSD for Liquity's Stability Pool providers and deposits it back to the Stability Pool." This "locks the liquidation profits for the users, allows passive APY on LUSD (currently 15%), saves gas costs, and strengthens Liquity's stability."

Rainbow Wallet App Update

The Rainbow mobile wallet "received a significant performance and connection boost in this latest update."

Introducing NXTP

NXTP is "a simple, generalized protocol for crosschain transactions built by Connext – the testnet is now live."

Introducing the Votium Protocol

The Votium Protocol is "an auction platform where CVX holders can delegate their voting power and receive compensation from buyers interested in amassing voting power."

PartyDAO Launched

PartyDAO's first app is PartyBid which "allows people to come together and bid on NFTs." The first NFT that PartyBid "won was a zombie CryptoPunk that was being auctioned off on ZORA's new NFT auction platform."

Mean Finance Launched

Mean Finance "allows users to Dollar Cost Average (DCA) any ERC20 into any ERC20 with their preferred period frequency."

mCLUB Announced

mCLUB is "a new grant-giving DAO that is focused on recruiting, backing, and supporting creators and communities onto the Mirror platform while offering learning experiences for those interested in creating and working within a DAO."

Cono Finance Introduced

Cono Finance is "a UI for Gelato's liquidation protection solution for Aave users on Polygon."

MakersPlace Raises $30 Million

The Series A round was "led by Pantera Capital and Bessemer Venture Partners with participation from a few other investors."

Krystal Raises $6.6 Million

The round was "led by Hashed with participation from crypto.com, Signum Capital, DeFi Alliance and more."

dHEDGE V2 Announced

dHEDGE V2 "introduces the Guarded Open Access Transactions — GOAT framework." A flexible framework that "supports a UX resembling the way applications are used via Gnosis Safe." DeFi protocols that get "added through the GOAT framework will be made accessible through dHEDGE V2 interface."

Hashflow Open Alpha Launched

Hashflow "promises users the best decentralized trading experience on Ethereum with tight spreads, zero slippage and MEV-resistance."

Sense Finance Raises $5.2 Million

The financing was "led by Dragonfly, with participation from Bain Capital Ventures, Nascent, Variant, Robot Ventures, and theLAO, among others."

TyanDAO Announced

TyanDAO is "a collective of 20+ individuals working together under the canopy of decentralised ideologies to achieve mutually beneficial outcomes."

DeversiFi Launches Polygon Bridge

This bridge between Polygon and Ethereum "enables fast, gas free and frictionless deposits and withdrawals between the two platforms while increasing liquidity across chains.‌‌"

Argent Layer 2 Waitlist Announced

Users can "sign up to this waitlist to be the first to know when Argent's layer 2 integration goes live."

Sponsored Links by DQ Promote