Orchard, the Marketplace Lending Platform backed by Spark Capital, Canaan Partners, and industry veterans, secures $14.7M in total investments
Founded in NYC 2013, Orchard Platform, an investment and analytics platform focused on the global marketplace lending market, today announced it has raised $12 million in Series A funding. This brings the total investment in Orchard to $14.7M. Spark Capital and Canaan Partners, which led the round, were joined by additional investors John Mack, former chairman and CEO of Morgan Stanley; Hans Morris, former president of Visa and managing partner at NYCA; Nigel Morris, managing partner at QED Investors and co-founder of Capital One Financial Services; Anthony Abenante, former CEO of Instinet and senior adviser at KCG Holdings; Max Levchin, founder & CEO of Affirm, and former co-founder and CTO of Paypal; and existing investors Tom Glocer, former CEO of Thomson Reuters; and Vikram Pandit, Former CEO of Citigroup. Orchard will use the funds to expand its team and accelerate the evolution of its technology platform.
"At Orchard, we are on the leading edge of this new frontier. We are in the early stages of a massive change to the credit markets, which we believe will transform lending," said Orchard co-founder and CEO Matt Burton. "Orchard's goal is to build the next generation of credit. Since founding the company one year ago, we have witnessed the emergence of a virtuous cycle that is driving benefits for all market participants."
Online direct lending, also known as marketplace lending, allows borrowers to apply online for loans that are funded by a diverse set of investors. "This means that a broader source of capital is accessible to borrowers through these emerging marketplace lenders—the products offered are unique and unmatched by anything currently available through more traditional channels. Institutional investors can choose to fund these loans and earn money on the principal and interest payments," explains Orchard. "The marketplace lending space has recently benefitted from the continued sophistication of investors and an expanded ecosystem of service providers. Traditional banks are also supporting the growth of loan originators by investing in their ability to effectively and efficiently fund and securitize loans. The space has also seen an increase in public awareness with major recent news events, including LendingClub's planned IPO."
"As it has in so many markets, the disruptive power of the Internet is leading to the reinvention of prevailing credit models," said Max Levchin founder & CEO of Affirm, and former co-founder and CTO of Paypal. "I believe Orchard's technology will play an integral part in the process to the benefit of investors, lenders and borrowers alike."
Read more influential investors buzz about Orchard below:
"When we first looked at Orchard, the overall direct lending market was primarily a consumer phenomenon," said Santo Politi at Spark Capital. "Now, the lending opportunities are expanding—small business loans, real estate, higher education. It's amazing to think how quickly the pieces of the marketplace lending ecosystem have fallen into place."
Spark Capital is a venture capital firm that partners with exceptional entrepreneurs seeking to build disruptive, world-changing companies. Founded in 2005, Spark Capital manages approximately $1,825,000,000 across five funds. Founded in Boston, Spark  focuses on the following key categories: advertising & monetization, commerce & services, content & media, hardware & infrastructure, mobile and social. Spark Capital has backed notable companies including Twitter, Tumblr, Foursquare, AdMeld, Adapt.tv, OMGPOP, Warby Parker and Wayfair.
"The growth in marketplace lending and the institutional investor interest in it has been nothing short of exponential," said Dan Ciporin of Canaan Partners. "The need for investors to be able to manage their assets across originators in this ecosystem has become acute.  Orchard provides the perfect solution to this problem with a broad-based platform that enables any institutional investor to manage all their marketplace lending assets, wherever they may be located."
For nearly 30 years, Canaan Partners has been investing in entrepreneurs with visionary ideas to improve the way people live their lives.  With over $4.2 billion under management and more than 160 exits to date, Canaan has funded some of the world's most innovative companies in technology including Ebates, Kabam, Lending Club, and Skybox Imaging, as well as healthcare leaders such as Arvinas, Civitas Therapeutics, Durata Therapeutics, Labrys Biologics and Truveris.
"For institutional investors, the direct lending market wasn't even a blip 18 months ago," said John Mack, former chairman and CEO of Morgan Stanley. "Now we're seeing a situation where investor demand is outstripping supply. That isn't going to last as more and more lenders recognize the opportunity to scale and diversify their capital by embracing marketplace funding."
And lastly,
"Changing the relationships between parties to a transaction is game changing," said  Nigel Morris of QED Investors. "Orchard is making it possible for both online and offline origination platforms to efficiently gain access to capital by bringing together a diverse marketplace of institutional investors."
For more detailed information about Orchard, its investment strategy, real-time trading and reporting, premier analytics, as well as access to supply, interested investors and savants may follow Orchard's blog  which explores analytical and technical topics related to lending and read the platform's monthly Marketplace Lending Meetup.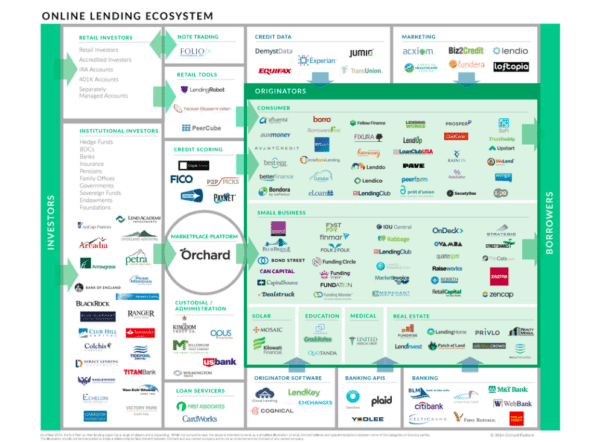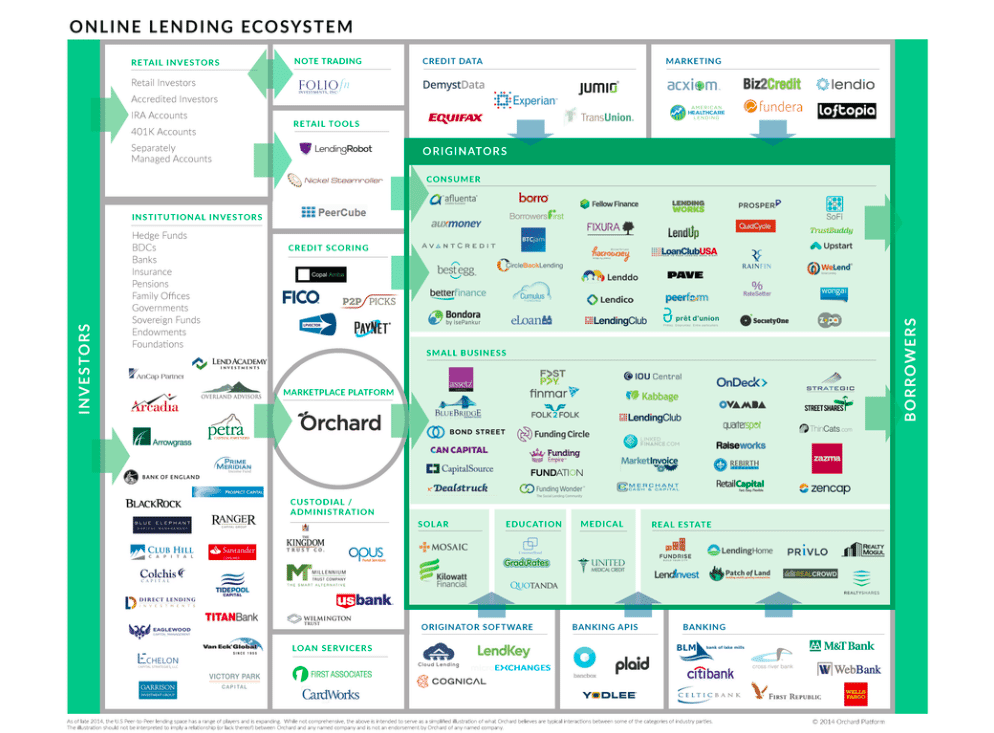 Sponsored Links by DQ Promote